What's the first thing that comes to your mind when you think of going on vacation? 
Is it all the new places waiting for you to see and explore while you're away and the fun things you'll do too? Or the people you'll meet, talk to and learn about their culture? Or maybe it's all the palate-pleasing meals you'll get to try out? 
You can get all these and so much more from English Cottage Vacation, a place that gives you a holiday like no other. Our vacation experiences are designed to give you the ultimate luxury, all-inclusive, leave-your-wallet-at-home experience. While there are so many things to love about what we offer, one of our crowning features is our amazing food.
Gourmet cuisine, local delicacies, and our very own signature dishes are all on the menu at Well Cottage. These are masterfully created and made with love and the greatest attention to detail by our brilliant trained chef Laura, using fresh ingredients from our garden and local suppliers. Leveraging her 12 years of experience as a professional chef, Laura delivers scrumptious meals that paint a story through appetizing flavours and divine aromas that any foodie would be hungry to experience.
How we serve your food
All food served at our cottage is cooked in your personal kitchen to give you full transparency on how it is prepared and exactly what ingredients go into it. After all, we are what we eat, so we believe that we should only ever be consuming pure goodness – and in that regard, we should always be conscious of what we're eating. 
Thanks to Laura's culinary skills, all of your meals will be perfectly catered to you – no matter your personal food preference or dietary requirements. 
At Well Cottage we understand that we all have unique taste preferences – so our trained chef creates a very special menu specifically for you according to your diet preference form. This will be   sent to you 4 weeks prior to your holiday here with us and this is your chance to tell us exactly what you don't like and any requests that you might have for what would make your foodie experience a dream come true while on your vacation.
We ask what kind of cuisine you like, dietary requirements and anything that you specifically wouldn't want to eat – then a tailor-made menu is lovingly crafted around that!
There's a real beauty in the fact that it is only Laura taking full control in the kitchen. This allows your entire menu to be specifically catered to you, for you! This way, you never have to worry about deciding on the day of what you'd like to eat. Instead, you'll sit down to the dining room table knowing that anything that is served has been prepared just for you, so you know you'll love it!
You can also ask forspecifics like lobster Thermidor to be on the weekly menu. We love to please our guests in this way for celebrations, special occasions or just because you know you'll be craving it on your holiday! If Laura hasn't ever made your special requests before, she'll even take the time out to research and practice it, to ensure it's perfect for your meal so it turns out the best way possible!
Make your English Cottage Vacation the ultimate foodie experience!
The meals you can expect
So what can you expect to eat at Well Cottage? In short, absolutely anything you so desire!
We have sample menus you can order from with a wide range of mouthwatering meals, such as our grilled lobster tail dressed in melted lime and garlic butter for when you're feeling like something divine or our pistachio crusted pork tenderloin that's cooked to pork-fection.
If you like to be a little more adventurous with your food, you can put in special meal requests instead. Laura will plan a menu based on your dietary requirements, cravings and preferences and serve you a fantastic meal that brings all your foodie dreams to life. 
No request is too big or small! Whether you just want vegan or vegetarian dishes in line with your health goals or you're on a strict gluten-free, sugar-free, or anything-else-free diet, we'll make sure to factor that in when we plan your meals. You can even make an adventure out of your meals with themed food weeks or evening requests; like #MeatlessMondays, Vegan Escape, Sweet Week, and even Breakfast for Dinner nights for something fun and unique. 
Cooking classes
Give a man a fish, you feed him for a day but teach a man to fish — or in our case, teach him to cook the fish — and you feed him for a lifetime. Our version of this at Well Cottage is the chance for you to join Laura while she's cooking and learn her skills.
There's no strict schedule for these classes so you can join them on an ad-hoc basis. It's a great, fun way to learn a new skill while you're on holiday. Isn't a new skill just the perfect thing to take back home as a souvenir?
Kids can join in on the fun too and take part in Chef Laura's simple children's classes where they'll learn to bake sweet treats that are sure to put sugary-sweet smiles on their faces. While you enjoy some time outdoors or indulge in any of the spa treatments we offer, the kids can spend time with Laura learning to make cookies, cupcakes, cakes and other baked goods. 
Food Tours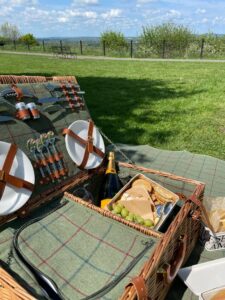 When you go out on an excursion, we'll pack the perfect lunch for you in a wicker picnic basket so you can take in the sights while you munch on some tasty cream cheese and cucumber sandwiches or steak baguettes.
You can skip the basket and go for something a little more daring instead. After all, the ultimate foodie vacation isn't complete without a food tour around the historic city of Bath. It's a great opportunity to explore all of the quintessentially British meals cooked up with local ingredients as you walk around the city. Who would say no to the sweet crumbly goodness of a freshly made fudge or a savoury treat of fried fish and chips with a view of the remarkable Bath Cathedral in the background? 
If the promise of mouthwatering meals and gourmet cuisine has your taste buds tingling and your tummy craving something yummy, then book a spot on one of our tailor-made retreats for the ultimate foodie experience. Too excited to wait until your holiday to taste Laura's delicious creations? Why not try your hand at cooking up a storm with some guidance from her own recipes? Sign up for our newsletter here for one free recipe every month.