There's nothing quite like spending your vacation on a yacht. Sailing across the sea with the cool breeze in your hair, a deck you can turn into a beach at any time, and new sites to discover throughout your holiday.
And there's so much more to enjoy as a yacht charter lover, from the attentive service, to the abundance and luxuriousness of it all. But if you're sick of the sea and need something a little different for your next holiday (without giving up the luxury), or if you just have a love of England or an interest in visiting England — we have just the vacation for you. 
English Cottage Vacation offers the same all-inclusive luxury experience you'd get on a yacht, in the bespoke, going off the beaten track way. We know the knowledge, taking people away from the usual tourist attractions to give you an authentic British experience.

We have three amazing package options that you can choose from, including the fully tailor-made experience which gives you the freedom to create the vacation of your dreams, just like you'd steer your own course on a yacht charter vacation.
Whether you want to spend your days in the great outdoors, soaking in the glorious British summertime sunshine during the many excursions that we recommend, or you prefer to have us take care of all of your needs while you relax, English Cottage Vacation ticks all those boxes. In many ways, we offer an experience that's just as luxurious as a yacht charter vacation but we have a few spectacular extras that also put us in a league of our own. This is, what we like to call, the 'appanage' holiday…
The Similarities
So why should you skip the waves and join us here at Well Cottage, instead of a superyacht cruise for your upcoming vacation? With us, you'll still get the kind of luxury experience you deserve and enjoy aboard a yacht, including the following:
Experienced Hosts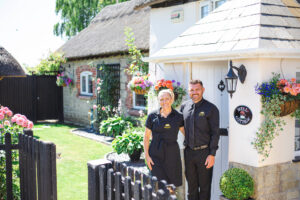 What's a vacation without the perfect host? Your hosts at Well Cottage, Laura and Nathan, have 10 years of experience hosting clients on luxury charter yachts. Their knowledge of giving clients the elite treatment is infused into every part of the English Cottage Vacation experience; from the attentive, hands-on service to fulfilling even the wildest of requests. They go above and beyond to give you the kind of luxury holiday you want and deserve. 
Fully Catered Vacation
Whether you'd like to fill up on a classic full English breakfast with beans, toast, mushrooms, tomatoes, potatoes, bacon, eggs, and yummy black pudding or you want to spoil yourself with a gourmet dinner that turns ordinary meal time into something special, we'll cater to your every need.
You can even have your meals outside, blanketed by the warmth of the sun during the day or illuminated by the stars at night — just like meals served on a yacht deck. Thanks to Laura's 12 years of experience as a chef, every meal we serve you will be an unforgettable experience of taste, topped with ambrosial drinks mixed up by our in-house mixologist, Nathan. 
Sunshine summers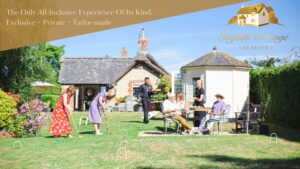 You'll love the summers here in our traditional, 18th-century English thatched cottage, settled into the tiny hamlet called Bedchester, which falls under the civil parish of Fontmell Magna in the north Dorset countryside here in Great Britain. The sun will caress your skin with its warm rays and our garden will welcome you with beautiful, colourful blooms. If you want something like a lounge-on-a-deck-chair yacht experience, we'll do everything in our power to set it up for you so you can have as much fun in the sun as you want without worrying about any wobbly waves and nauseous nerves. 
Massages and pampering
If you love the all inclusive VIP treatment you'd get on a yacht, the perfect solution is English Cottage Vacation. For the ultimate relaxing vacation, our packages also include various spa treatments to help you ease away stress and anxiety, and embrace the positive vibes that come with being properly pampered as you deserve when you're on holiday.
Personal Chauffeur Services
Just like on a yacht where you'll have a captain and a tender to take you on excursions and guide you on snorkeling trips, our equivalent is your own personal chauffeur. We supply a luxury van to take you to all of your excursions, making sure all food and tickets are covered and that you're being well looked after.

All of our guests say being picked up from the airport and being brought to the cottage with no stress of having to hire a car or book a taxi and being able to avoid having to drive on a different side and down tiny countryside roads is one of the best feelings of really being cared for. What's more – we keep this luxury experience going throughout your entire trip here with us.
The British Yachting Day Experience
We now offer a new and exciting opportunity for our guests in the form of a day trip out on a 50ft Sunseeker yacht to enjoy a trip to the Jurassic Coast, hosted and chartered by your personal English Cottage Vacation hosts. We'll organise all of the food and drinks for you, bringing our abundant services to the seas for your boat day out on the British waters!
The Extras
During your stay with us, you won't have to deal with seasickness or homesickness. We go out of our way to create an atmosphere that feels like a home away from home and add extreme splendor to make the whole experience even better. While yacht holidays are generally better in the spring or summer, you can join us for a vacation any time of the year and still have the time of your life.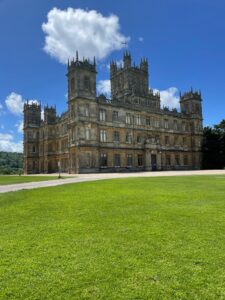 During the cold seasons, there are plenty of winter escapes you can take part in and the cold will never bother you thanks to the outdoor amenities we provide like boots, wellies and jackets. Plus, we have a great fireplace where you can soak up the warmth of the fire while you drink a lovely, warm cup of tea, forgetting about the chill outdoors. 
For the warmer seasons, you can have plenty of fun in the sun and explore as much as you want to with zero restrictions following our itinerary or one of your own designed and specified to your holiday preferences. Just a few of the little extras that you'll love that put our vacation above any yacht experience are:
Shopping and culture days
How about some retail therapy while you immerse yourself in the local food culture? As you shop from the delightful mix of independent stores and high street brands tucked away in the nearby, breathtaking Roman city of Bath, you'll have the chance to try out some of the best local British cuisines the city has to offer. 
Fun activities for the kids
If you're travelling with kids, we have plenty of fun activities they can take part in so they get to do something they love and enjoy while you indulge in a soothing massage or romantic evening cocktails in our luscious garden or at our elegantly set dining tables.
Hot air balloon experiences
One thing you definitely won't get on a yacht is the chance to glide over the rolling hills of England in a hot air balloon. Thankfully, with us, this magical experience of riding on a cloud and feeling weightless as you view the world from up high can be part of your vacation. All you have to do is ask and we'll make it happen.   
Cycling
If you fancy a leisurely ride where you can let loose and enjoy the sun streaming through the towering forest trees, with a cool breeze blowing past you and the scent of the fresh country air, we'll arrange the bikes for you, helmets and all, for some safe cycling fun. It's the perfect way to take in the miraculous nature around you, from the beautiful landscapes that you can explore to the unique birds you can observe during your journey.
Although a yachting vacation is a special experience that we all love to have over and over again, English Cottage Vacation offers a one-of-a-kind luxury adventure that's so marvellous, it might just succeed at tempting you away from the sea. You get all the thrills and frills that you love about being on a yacht, along with some new experiences that are just unique to us, so that you and your family or friends can enjoy something that's both familiar but a little different too in the best way.