A true vacation is the chance to live your best life, with freedom from the monotony of your routine and lifestyle. That's exactly what we offer here at English Cottage Vacation, where you'll live like a millionaire throughout your entire stay.
It's this level of high-quality care that is what makes this experience go above and beyond any other all-inclusive, luxury vacation on the market at the moment. It's the vacation for those that love yacht holidays but are looking for something a little bit different this summer.
Whatever you wish for, we grant. From a personal chauffeur who'll drive you wherever you want to go while you sit back and enjoy the passing scenery, to a chef who caters to your every craving, taste and dietary preference with supreme gourmet cuisine, local British wines and of course, scrumptious pudding!
You're waited on hand and foot so you can have the experience of a lifetime without lifting a finger. Everything is included in one price, even the tip! So you never have to think about bills or price tags or budgets while you're on vacation. Now isn't that what living like a millionaire is all about?
Two Skilled Hosts Available 24/7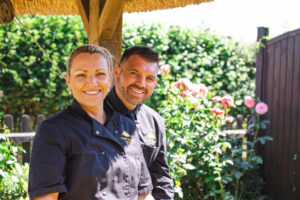 We're at your beck and call throughout your stay, ready to assist you with whatever you need during your vacation. We both have years of experience in luxury hosting under our belt from spending a decade working on high-end charter yachts, so we know how to best serve you.
English Cottage Vacation was born out of our passion for giving guests an unforgettable experience, as well as our love for the UK and all the wonderful things this country has to offer. This passion shines through in the way we cater to your every need, from the moment you book your vacation and check-in to start on your adventure.
Your Own Personal Chauffeur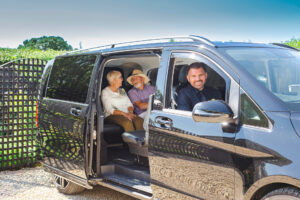 We know that travelling from the US to England for your holiday can be an exhausting experience, but you can rest assured that as soon as you get off the plane and step onto the great British terra firma, you will be well looked after. Your personal chauffeur Nathan, one of two of your full-time personal hosts, will be awaiting you in the airport arrivals, ready to take your bags and sweep you off your feet as you begin your magical journey. 
This personal chauffeur service is available to you wherever – and whenever – you wish to go. Although we have a fantastically planned itinerary for you, you're more than welcome to let us know if there is anywhere else you'd like to do while you're here with us and we'll whisk you there.
Your Own Personal Chef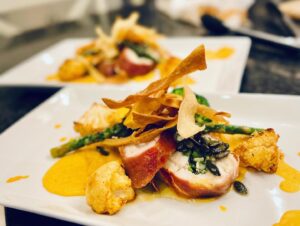 What's a vacation without great food that tickles your taste buds and keeps you coming back for more? Laura, our expert chef, has 12 years of experience in culinary art and she can deliver anything your heart so desires from her kitchen.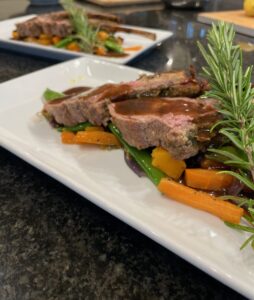 Whether you're craving traditional English cuisine or you want to try something new and exciting to take advantage of Laura's impressive range of culinary skills, you can trust us to give you the tastiest experience ever. Our 3-course meals are served to you in whatever way you'd like, whether you prefer a formal dining experience in a warm, inviting area filled with elegantly set tables, or the more relaxed garden setting where you can dine under the stars or sun.
All the mouthwatering meals from our kitchen are freshly prepared using ingredients from our very own garden and local organic farmers as well. Because our number one priority is you – our guest — we're more than happy to tailor our menu to meet your needs. Whether you have special dietary requirements, like vegan and gluten-free meals, or you want a true gourmet experience, Laura will create a menu for you filled with mouth-watering meals made with love and great attention to detail.  
Your Own Personal Skilled Bar Man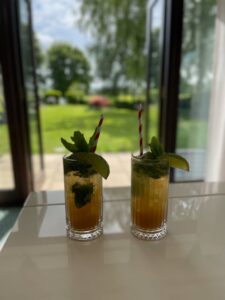 Picture this: you've just had the most amazing dinner ever and you're sitting outside taking in the refreshing air and the beautiful serenity of the night. The only thing that could make this moment all the more perfect would be your favourite exotique hand-crafted cocktail… Thanks to Nathan, our professional bar man, your dreams so easily become reality, with a silver tray adorned with that Pina Colada, Mojito or Daiquiri that you had just been imagining, suddenly appearing! How do we always know what you're thinking? It's some kind of magic, for sure!
If you don't have much of a sweet tooth, select your favourite bottle of wine from our impressive wine list.
Massage & Treatment Sessions
One of the best things about a vacation is getting a chance to relax and forget all your worries and responsibilities. While the serene atmosphere at English Cottage Vacation, complete with the glorious natural wonders, can help you achieve the relaxation you strive for, we take it a step further with our spa treatments. 
With each massage and treatment session, all of your exhaustion, weariness, and worries will be long gone and forgotten, replaced by the calming feeling of contentment and relaxation that leaves your body and mind feeling at ease and refreshed.
Our inclusive, in-house spa treatments consist of a variety of therapies that you can choose from – all designed to pamper you with the utmost care and relaxation. You can choose the type of therapy you want and where you'd like to indulge in this experience. We can offer this experience in a range of spaces throughout the cottage, even in the comfort of the master bedroom if you wish, or if it's a lovely sunny day and you'd rather envelop yourself in the goodness that nature has to offer to truly reset and recentre, the garden can become your massage therapy space too; the choice is entirely up to you.
Longing for the dream British getaway? Book your stay with us by reaching out at info@englishcottagevacation.com , we can't wait to welcome you to your vacation of a lifetime.