Booking holidays can feel like a hugely stressful endeavor… Not only do you have to choose the perfect location, book the flights, find a dreamy hotel, hire a car, arrange travel documents – then on top of all of that you also have to try to figure out the local activities, what's nearby and what is actually good and trusted and worth your precious vacation time! 
By the time you get around to the vacation itself, after having organised it all, the stress levels have risen even higher! The anxious anticipation of hoping that everything that you spent hours and hours putting together will work out as smoothly as you had been hoping it would AND is something that your family will love can all be a bit of a big ask! Ooft – that's not what a vacation should be at all!
At English Cottage Vacation, we take a little bit of that load off of you to put the fun back into planning your vacation. While the technicalities of crossing the pond to get to our lovely Well Cottage are entirely up to you, once you land, we've got everything else covered. 
We understand that everyone is different and so we strive to provide a vacation experience that's tailored to suit each of our unique guests and their individual tastes.
Some consider retirement a permanent vacation but when you spend all that time at home, you'll hardly get any rest at all. There will always be a garage to clean out, or a room to rearrange, or a yard to fix up. For retired holidaymakers visiting from America, Well Cottage is the perfect escape, topped with the unforgettable experience of delving into a different culture. You'll get the rest you deserve and have plenty of energy for some fun adventures because you never have to lift a finger while you're staying with us.   
And that's only the beginning of all the wonderful things we offer…
Fully-organised itinerary
"We adore chaos because we love to produce order" –
M.C. Escher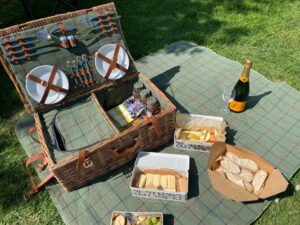 Planning a vacation is one of the most chaotic things you can ever deal with and the most important part is deciding how you spend your time once you've arrived. With our help, you'll have a fully-organised itinerary filled with all the best things that the nearby British cities and English countryside towns have to offer so you won't have to worry about figuring out how to spend your time there.
Live-in hosts
"True hospitality consists of giving the best of yourself to your guests." —
Eleanor Roosevelt
We're dedicated to ensuring you enjoy every aspect of your stay with us and that begins with having amazing hosts. Nathan and Laura have several years of experience as hosts on luxury charters and they bring this to every guest who visits Well Cottage.
Personal Chauffeur Driving Service
"All you need is that perfect song on that perfect drive to feel infinite."
When we say we look after you, we really do endeavour to do so by all means possible. This includes our personal chauffeur in our luxury van for every moment of your stay here with us.
From the moment you land at the airport, your chauffeur will be waiting for you with a sign with your name, ready to take your luggage and whisk you away. This way you don't need to worry about organising expensive taxis or hiring cars, with this service being included in our offer. You also don't have to stress about having a navigator or GPS or map, or driving on the wrong side of the road!
The tiny countryside roads can also be a cause for concern, especially for our American guests who have visited the U.K. and hired a car before… With this service, you don't have to think about having to deal with crossing paths with other driving and having to reverse to find a wider gap for the other to pass! We're used to all of this and so we are happy to let you sit back and relax while we drive you.
Another bonus of this service is that the best spots are often off the beaten track, so we do encounter these little roads on our trips but you'll be kept in bliss while we get you to the destination!
Pampering
"If the body is pampered, the mind is free to concentrate." –
Judy Blundell
Imagine spending a week being wined, dined, and served and all you have to do is say yes, no, please, and thank you. English Cottage Vacation delivers all that and more with our luxury vacation packages that guarantee you never lift a finger throughout your stay at Well Cottage. 
Meals fit for royalty
"You don't need a silver fork to eat good food." —
Paul Prudhomme
Good food is one of life's greatest pleasures and Chef Laura has excellent culinary skills that guarantee an unforgettable adventure of taste for your palate. Her passion for cooking, nurtured over 12 years of experience as a chef, is evident in the delicious meals she makes, served with elegance and a touch of flair worthy of a table serving royalty.
If you'd like to venture out and try some restaurants in the city, we'll recommend the good ones and Nathan, your personal chauffeur, will take you there. 
Activities to do at home
"Do anything, but let it produce joy." —
Walt Whitman
Fancy a quiet day indoors with some low-key entertainment? We provide plenty of activities that fit the bill so you can relax and still have fun without moving from the comfort of your couch. For a chilled night in, you can request whiskey and board games or movies, or you can order a pamper session and feel your stress, anxiety or exhaustion melt away with a relaxing massage. 
Once-in-a-lifetime experiences
"You don't stop having fun when you get old, you get old when you stop having fun."
What's a vacation without a once-in-a-lifetime experience that dares you to be bold and try something new? English Cottage Vacation will help you find such experiences to take part in to make your vacation extra special. 
You can take to the skies and soar with the clouds on a hot air balloon ride or even visit the Jurassic Coast to see an amazing site sculpted by nature itself. Whatever you choose, we'll make sure it's a luxurious experience you'll never forget. 
If you love the idea of a holiday with endless possibilities, put the garden tools and home renovation project down and give us a call to book your spot. It's time to enjoy your retirement the luxurious English Cottage Vacation way!