Whether you're searching for the perfect anniversary, birthday or Christmas gift for your grandparents, we have just the answer for you! Why not give them a true gift from the heart, that will create unforgettable memories for years to come… Our English Cottage Vacation is the perfect treat for your beloved grandparents, whether you choose to join them here or not, because we take care of every miniscule detail of this vacation. You just tell us what they love and we'll create the perfect itinerary of their dreams, where they are fully looked after and cared for the way they deserve to be.
Our quintessentially British thatched cottage, located in the heart of Dorset, England removes the stress of having to choose the location for your grandparents' dream holiday gift. We also take care of the accommodation and activities so that they can enjoy the best time ever on their surprise vacation without you needing to worry about choosing the right events or restaurants or organising taxis to and fro to pair with their schedule. When you book with us, you remove all the worry of details and decisions of what your grandparents will be doing throughout their holiday and if you're available to join them on this special occasion, all the better!
Our cottage is a luxury vacation destination that provides an unmatched experience of elegance, relaxation, fun, adventure, and even great tidbits about the nearby British towns and spectacular cities such as Bath and even further afield like London, if your heart so desires! This entire experience holiday is led by our two wonderful hosts, Nathan and Laura who are specialists in luxury vacations, having spent years in the yachting industry as hosts before launching their Great British appanage retreat holidays.
So here's what you and your grandparents can look forward to in your upcoming trip with us!
Tailor-Made Holiday Itineraries
We cater to all kinds of holidaymakers, from those looking forward to a blissful vacation to enjoy their retirement being catered to and pampered, to those who prefer an active holiday filled with fun activities that allow them to fully experience a different culture and enjoy their new surroundings. 
You can opt for our standard itinerary which has a great mix of day trips to the nearby Roman city of Bath, visits to the coast, and sightseeing trips to legendary traditional English castles such as Highclere, home of Downton Abbey. Alternatively, we can organise an itinerary for you according to your interests and include anything that you may fancy from the list (but not limited to) of English Cottage Vacation excursions provided on our website.  
Professional Live-In Hosts
Laura and Nathan are specialists in the luxury travel industry, but their abilities go above and beyond knowing how to cater to different people in a professional manner. Laura takes pride as your personal chef, creating a deliciously exquisite, full menu that caters to your dietary requirements and food preferences. Meanwhile Nathan's forte comes in the form of a delicious cocktail and personal chauffeur services to ensure you are whisked away – be it thanks to a delicious beverage or splendidly organised, luxury car and tour guide services! 
Although Nathan and Laura are live-in hosts and are available to you at any time that you may need them, you're in total control of how present your hosts should be. This style of hosting is the very definition of luxury — great comfort and elegance, it's what English Cottage Vacation is defined by.
Feel Well Looked After
We understand the value of self-care and offer lots of services to ensure that you get the luxury treatment you need for the well-earned rest you deserve. That includes massages, two attentive hosts, a talented bar man to mix up and serve you the most amazing drinks, and a professional chef who adores cooking up a real storm in the kitchen, while you sit back and relax. 
Personal Anytime, Anywhere Chauffeur
One of the best feelings of being well looked after is when you arrive at the airport and someone is waiting for you to take your bags, and guide you to your luxury car… Now imagine this experience over and over again during your stay. The entire time you are with us, we are here to look after you, so that you never have to worry about looking up car rentals or finding public transport to take you anywhere. Your personal chauffeur, Nathan, will take you wherever you need to go, whether you're headed out for an adventure or you need to be rushed to a doctor due to a medical emergency. 
Exquisite Cuisine In The Comfort Of Your New Home
Four weeks before you arrive, Laura will send you a culinary form for you to fill out with all of your food preferences, dietary requirements, allergies and dislikes. Equipped with this knowledge, Laura then sets out to create the most delicious week-long menu for your stay to ensure that everything that is lovingly cooked for you, will be something that you and your family will adore.
You can also decide where you'd like to dine! Whether you prefer to enjoy your meals in a formal setting at one of our elaborately-set tables or out in the garden with the melodic chirping of the birds and the sweet scent of our various blooms filling the air, the choice is yours.   
Activities to do at home
If you're looking for a perfect holiday away from home, but still with those homely vibes, we have lots to do at our cottage without having to venture out at all! Cooking classes, gentle yoga, book reading or board games by the fireplace with a whiskey in hand… 
Or spend some time in the garden among the beautiful blooms that are a world of colour just waiting to be explored. Alternatively, you could take a walk through the nearby forest, breathing in the fresh air and revelling in the joy of the earth beneath your feet and the warmth from the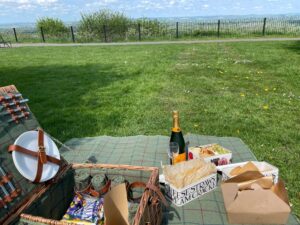 sun's rays filtering through the trees. We provide everything you need to stay busy while getting some much needed downtime!
And if that wasn't enough! There's far, far more your loved ones could experience during their English Cottage Vacation, we just don't have room to list it all here. 
That's why we always suggest getting in contact with us to discuss the infinite ways in which you could enjoy England in the most unique, once in a lifetime way!
We know that so much work goes into creating the perfect vacation, it's hard enough organising one for yourself, nevermind for your grandparents! That's where we come in to cater to their every need, so all you have to do is book their flights and leave the rest to us. Drop us a line now to get yourself – or your grandparents or parents booked in for the dream English vacation of a lifetime! We can't wait to welcome you.