What makes a location perfect for a vacation?
Is it weather that strikes a balance between warm and chilly so you're not too hot or cold to enjoy your holiday? Or is it the presence of iconic landmarks, historic structures and breathtaking views that you can have the pleasure of experiencing?
Or maybe it's the little details like attentive hosts, exciting meals and a comfy bed to sink into at the end of the day. English Cottage Vacation in Britain offers all of these and a lot more, making it the perfect vacation destination. It's a place with something for everyone, from mountain ranges for the hiking lovers and thrill-seeking adventurers, to a serene lakeside picnic environment for the laidback and easy-going at heart.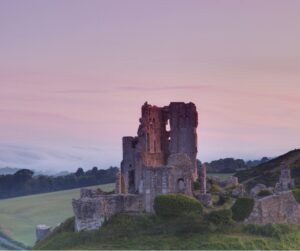 Some of the best things about Britain however, are the remnants of history scattered throughout this marvelous country. From castle ruins to mysterious, ancient natural landmarks. Fairy-tale-like thatched cottage vacations, set in the heart of Dorset, that include luxurious yacht days out to see the Jurassic coast from a totally different perspective. This UNESCO location is known for its remarkable geology, 'revealing 185 million years of Earth's history along its 95 mile stretch of coastline' (Visit Dorset). And we invite you to admire this spectacular  shore from the sea, while cruising across the timeless ocean!

Before asphalt, metal standing seams, concrete tiles, wood, clay or vinyl roofs with coloured tiles that make the top of a house look like sunset-orange rippling waves; before the fancy ceilings with ornamental lights and chandeliers hanging in all their shining glory, thatching was the roofing material of choice for many homes. 
The age-old craft of thatching goes way back to the Bronze Age when dry straw, water reeds, rushes, sedges and palm branches (among other materials) were used as roofing. Now, seeing a thatched roof is quite uncommon and nearly a tenth of thatched houses are in Dorset. English Cottage Vacation's Well Cottage is one of these rare treasures, proudly wearing its thatched roof as a glorious crown, rich in history and culture, evoking a sense of magic to all that behold this majestic reminder of a time long gone before, but still remaining in the modern era.
For centuries, thatching was the roofing of the poor – a readily-available material that anyone could use at their convenience until other materials became more widely accessible. Lately, thatched roofs have become a symbol of luxury and that's something we aim to live up to here at English Cottage Vacation.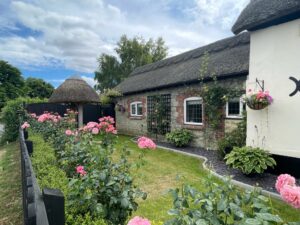 Our thatched cottage is an aesthetic delight, drawing you into the nostalgia of a simpler era that's long been forgotten. In honour of that simplicity, we make everything about your luxury vacation at our thatched cottage simple for you by taking care of all the big and little details that go into making it the ultimate cottage retreat.
From crafting a personalised menu based on your preferences to organising your entire itinerary so it's filled with things you'll enjoy doing. We go the extra mile to create a great experience for you so you don't even have to lift a finger. Can it get any easier and more relaxed than that?
The rustic appearance of our thatched cottage is just one of many wonderful things about it. Apart from giving you a glimpse into history, Well Cottage is well equipped for any temperatures that England's weather may bring us. The thatching is very insulating and remarkably resistant to the elements so it's warm in the winter and cool in the summer.
You'll stay warm and toasty in the cottage during the crisp autumn months and colder winter days – not just for our thatched roof but for our truly splendid fireplace, roaring in the 'snug'. This way you can enjoy the serenity of watching raindrops running down the window panes, while snuggled up and cosy in the comfort of your home away from home. Pair this with a hot chocolate in hand, pot of tea on the table – or even a whiskey to really give yourself more of that sense of warmth from the inside out!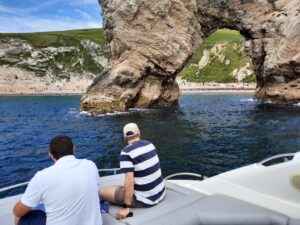 Meanwhile during the summer months, the weather here in England has reached highs of up to 34 degrees! This is perfect for yachting – another delight you can experience with English Cottage Vacation. Thanks to our partnership with Jurassic Charters, we offer a yacht ride for 4 hours to view the Jurassic Coast – England's only natural World Heritage Site. You'll stop by the beach, see the wondrous Durdle Door from the water and enjoy a delectable packed lunch with champagne for an all-out VIP experience. In short, we're offering all the best of Britain in one vacation.
We know how important it is to choose the right location for your vacation. That's why we've created a place that checks all the boxes and goes far beyond. English Cottage Vacation has the best of Britain and we can't wait to share it with you. Book your spot for a thatched cottage retreat with yacht days out and all of the other wonderful things that Britain has to offer.