The British Yachting Experience: The Best of Both Worlds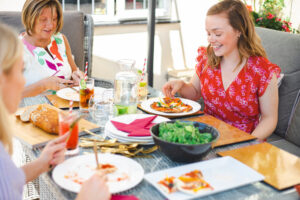 At English Cottage Vacation, we're redefining the luxury holiday experience to guarantee that you'll have an amazing time. Our tailor-made itineraries offer more than just a peek into the luxurious side of life – we give you a chance to immerse yourself in a vacation experience like no other. We offer fun adventures around Dorset and beyond to a fully catered experience where you're waited on, with your wonderful hosts, Laura and Nathan, looking after you at all times.
After spending years as hosts on luxury yachts, ensuring that vacationers got the elite treatment they sought while aboard yacht cruises, Laura and Nathan longed for some stability and a chance to set roots in their homeland of Great Britain. And so, English Cottage Vacation was born.
English Cottage Vacation brings together two of their biggest passions; their love for England and devoted adoration for yachting and all of the luxury that comes with it. Using the skills they gained from their time hosting on luxury yachts, they created a dreamy holiday concept that offers guests an unforgettable experience filled with all the finer things of life – from mouth-watering gourmet meals to once-in-a-lifetime adventures.
Since English Cottage Vacation was launched, the focus was set on providing a luxurious holiday experience where guests could eat, drink and be merry through a mixed bag of fun excursions, perfect for both the adventurous at heart and those who enjoy the tranquillity of solitude. Now, we're adding a new and exciting opportunity for our guests in the form of a trip to the Jurassic Coast on a 50ft Sunseeker yachting day experience.
We are so pleased to be able to share this incredible experience with our guests, to really dive deep into our true passion and offer it as a half day experience from our English Cottage Vacation.
This is 4 amazing hours spent on the British waters, with your very own captain! You'll also have Nathan aboard to pour and serve you drinks and snacks. You'll experience the full English Riviera yacht life and see the famous, naturally carved Durdle Door from the water. We'll also take you into Weymouth Harbour, venturing into Lulworth Cove to take a look at its pretty village from the water. We also include a swim stop and supply our guests with lunch or canapes and champagne for the supreme VIP experience.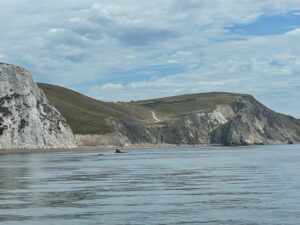 It's the perfect adventure to clear your mind and let your troubles get washed away with the waves while you enjoy the warmth of the sun and the glorious salty scent of the season a lovely afternoon out at sea.
By combining the Jurassic Coast charter with English Cottage Vacation's unique brand of luxury, we guarantee that you'll get the best of both worlds on this adventure.
The Jurassic Coast with its towering white cliffs disappearing into the cascading seas stretches for miles with loads of magnificent highlights throughout so you'll have something to look forward to on every leg of the journey. Of course the extended time on a luxurious yacht as an added bonus is another enticing factor!
The area is a beautiful part of the country, ideal for sightseeing from a deck as you cruise along or for a seaside escapade complete with an exploration of hidden coves and historic landmarks.
We go all out to make this spectacular trip a memorable one, by giving you everything you need to enjoy it to the fullest. That includes a journey in your luxury van, driven by your own personal chauffeur, Nathan, to board the yacht and our traditional picnic basket of goodies that Chef Laura prepares for every excursion for you to dig into once you set sail.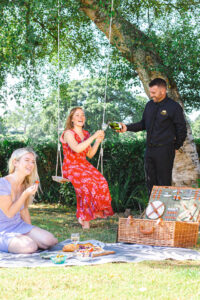 Imagine sailing past the dazzling, white Old Harry Rocks stacked like a puzzle just waiting to be solved, or beholding the magnificent Corfe Castle in all its crumbling glory while you sip on a glass of champagne or refreshing orange juice.
Even the beloved Durdle Door is that much more glorious to witness when you pause and take it all in while you devour Laura's excursion day picnic lunches or canapes, depending on whether you visit in the morning or the afternoon.
After an amazing 4 hours of magnificent views alongside a culinary adventure and a taste of the luxurious yacht life, you can look forward to returning to our Well Cottage – a place that feels just like home. There, you can rest up and refresh for your next big adventure and treasure your trip to the Jurassic Coast in your heart forever. 
So what are you waiting for? Book a call with us to get started on planning your luxury vacation with us, complete with this amazing opportunity to visit one of the best sites in Dorset.