"What's in a name? That which we call a rose by any other name would smell as sweet."

– William Shakespeare, Romeo and Juliet
A lot of thought goes into a name. Whether you're naming a person, a place, a pet or a possession, you always want to get it right. It has to fit whatever or whoever is being named – and it also has to be something you'll love. So it really has to be perfect. 
Naming Well Cottage was the same experience for us. We wanted a name for our British thatched cottage that was elegant, but at the same time embodied the luxury vacation experience we planned to provide there. 
Even before we managed to purchase it as our own, before we put a luxury spin on the place, the cottage was always a place of comfort that hosted many. A long time ago, the well and part of the house were a drover's cottage where tradesmen could rest and eat before continuing on their mission of delivering goods to London by horse and cart.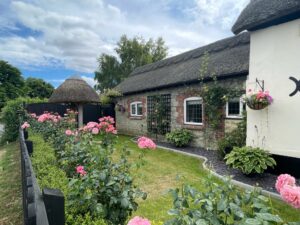 Now, Well Cottage continues to give its guests the comfort and rest they deserve through the luxury experience that is English Cottage Vacation. Many of the original features, like the thatched roof are still part of the cottage and everything that has been added since then has only enhanced the restful experience that the cottage was already known for. 
The original well, built back up by Laura's dad, remains to this day. The thatched top was added to the well later on to help it match the rest of the cottage and give it the same rustic vibe. The well still works, offering the cool, refreshing lifeforce of its water to the luscious garden, especially in the summer when it provides relief from the scorching sun to the gorgeous blooms. 
It is this well that our cottage is named after. A name that encompasses how well you'll be treated during your British luxury vacation with us. A name that shows how well you'll feel throughout the experience. A name that symbolises our promise to always strive to do well in every aspect of your holiday. Just as the well rejuvenates our garden of flowers, Well Cottage named after it, offers the same revitalisation to everyone who visits, so you can be assured you'll feel amazing after your holiday.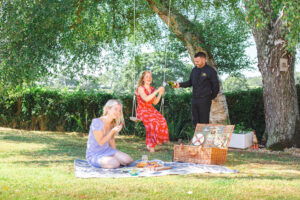 A vacation at Well Cottage is well worth it (pun intended). You'll experience the beauty of nature throughout your stay through the lovely garden, tall trees, refreshing air and so much more. We even offer some wellness activities to get you feeling like your best self, such as different types of massage therapies and fun and games you can take part in. 
If you're feeling adventurous, you can explore the woods nearby on a long walk or hike up some mountains and stand tall above the world. And for a truly luxurious experience, you can take a yacht ride to view the magnificent Jurassic Coast. 
So what's in our name you may ask? History, luxury and a promise. 
Well, doesn't that just tempt you to drop everything and book yourself a luxury vacation at Well Cottage? Give us a call and we'll help you plan the best experience ever here at our British thatched cottage.