Rise and shine!
Imagine waking up in a fairytale foodie world, where all of your cravings are satisfied, and all of your favourite cuisine hopes and dreams are plated up and served to you on a silver platter without you having to even ask! You get all that and so much more with English Cottage Vacation. 
We offer an all-inclusive, leave-your-wallet-at-home experience that allows you to forget about everything else and focus on having a good time. We'll help you trade in the fuss over what to have for breakfast, lunch and dinner or any other snack times in between for the joy of pre-determined meals that are so delicious you can't help but ask for seconds.
While you're on vacation at Well Cottage, all your meals will be prepared by our host and chef, Laura. Through a form that you fill in before you come and stay with us, she'll create a personalised menu for you filled with tasty gourmet meals that you'll enjoy. 
You'll never have to think on the spot about what you'd like to have because your hosts already know you well enough to serve up something you'll definitely love. Now isn't that the very definition of luxury?
So what does a typical week of English Cottage Vacation look like from a foodie's perspective? Our days usually consist of three main meals with lots of variety according to your personalised menu. Read on for a brief description of what you can expect during meal times at Well Cottage and some sample menus.
Breakfast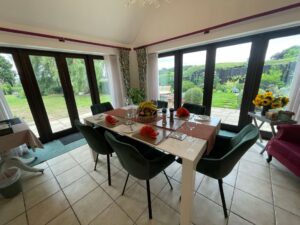 After waking up to a glorious morning with the symphony of birds filling the air outside your window accompanied by the soft rustle of tree leaves as the branches sway in the wind, you'll find a delectable breakfast waiting to fuel you up for whatever you have planned for the day. 
A typical breakfast at Well Cottage can be a buffet style meal where you choose what you want and how much of it you'd like from a spread of yummy delicacies prepared by Laura — as any breakfast on a luxury vacation should be.
Alternatively, you may get a plated meal, ranging from the savoury delight that is a Frittata with Sautéed Garlic Mushrooms and Crispy Bacon to the sticky sweet succulence of the Stacked American Blueberry Pancakes drizzled in a generous helping of hot maple syrup.  
Lunch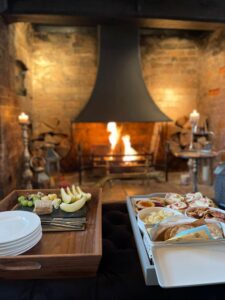 As your day unfolds while the sun sails through the sky and its rays cut through the clouds to touch your skin with a warm kiss, we'll serve you a lunch that will warm you up just as much from the inside. 
After spending the morning relaxing in our cottage or out in the gardens, or if you feel even more adventurous, further out on your chosen excursion, we know a nice, light meal is one thing that'll be on your mind. We have plenty of options to cater to your taste buds and whatever arrangement you've made.
If you're having lunch at the cottage, you'll get a scrumptious meal that Laura prepares for you. Some examples of the tasty meals that make up our lunch options are the exquisite Marinated Pineapple and Chicken Skewers and Grilled Lobster Tai Dressed in Melted Lime and Garlic Butter.
Laura also offers special lunchtime options as Excursion Day Lunches in case you want to go on a bike ride through the countryside or on any other adventure. You can get a packed lunch to have on the go so your fun doesn't have to stop just because you're hungry. Options for these include a selection of Devonshire scones with jam and clotted cream along with buttery Cornish pasties, accompanied with a refreshing beverage of your choice, from wine to freshly squeezed orange juice, or fantastically hydrating water.
3-Course Evening Meal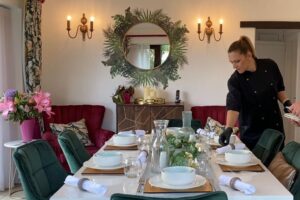 What's a more perfect way to wind down an ideal luxury vacation day than an evening meal that's just as luxurious? We offer a traditional 3-course evening meal with a starter, main course and a scrumptious dessert so you can finish your day off in the tastiest way possible. 
Imagine coming down to a starter of a prawn cocktail, followed by a proper British Sunday roast as your main meal and a sweet dessert of sticky toffee pudding. Whether you have this indoors at one of our elegantly set tables or out on the patio with the stars scattered through the sky, we guarantee that all your needs will be met. It doesn't get more luxurious than this!