Our roots lie in the world of yachting. We have spent the past 10 years working on high-end, luxury charter yachts, where our guests' happiness has always been our sole focus – and this has been our main aim, to bring to our guests here at Well Cottage on our English Cottage Vacation experiences.

The concept of abundance is one such thing — an ideal that's intricately threaded into the heart and soul of our English Cottage Vacation. Abundance is a common term in the yachting industry and we adopted it to highlight how well you can expect to be looked after during your vacation with us.  
It's this idea that no request you'll make throughout your stay will ever be too large and that everything you could ever want – or need – is close at hand. It's about feeling that warm sense of love and care that comes with every attention to detail being thought of and handled by your hosts.
It's these little, thoughtful things that really do make a big difference and define the English Cottage Vacation luxury experience. Read on and take a deep dive into the true meaning of abundance — English Cottage Vacation style. 
An Abundance of Yumminess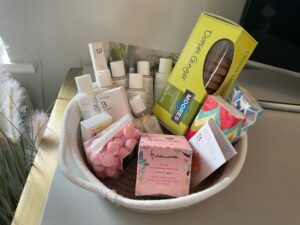 Delicious, filling meals for breakfast, lunch and dinner are a guarantee throughout your luxury vacation with us, thanks to Chef Laura's exceptional culinary skills. But what about all those times in between when you need to indulge your sweet tooth or satisfy a craving for a snack?
We've got that covered with locally sourced treats like the Moores Dorset Ginger biscuits and Holdsworth milk chocolate truffles, all arranged in an uplifting care package along with lots of other essentials. With these treats from the place we call home, you can get a taste of the Dorset goodness we love and trust and enjoy the abundant stream of goodies that we always keep in supply for you.
An Abundance of All the Essentials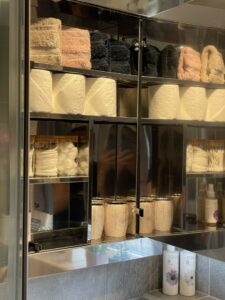 On any other vacation in any other place, you know to expect the basics when it comes to essentials like clean towels, fresh linen, comfy bedding, and – hopefully, a regular supply of little shampoo and body wash bottles that you stash in your bag as souvenirs when you leave (no judgment here, we've all done it!). 
English Cottage Vacation goes above and beyond these comforting holiday essentials. We know that, although small, it is the extra thought put into these basics that brightens our guests' day, even more. We think of all of the little things that you may not realise you need but they really do make a big difference. Little things like earplugs to ensure you get the completely uninterrupted beauty sleep or meditation that you need, to tune the world out, so that you can centre in. We also include handy little packets of wipes and tissues that are convenient for carrying in your bag when you're out on an excursion. 
An Abundance of Care
Your hosts, Laura and Nathan, strive to make Well Cottage the most welcoming place and somewhere you can feel at home, because that is what brings them the most joy and pride. You can see the proof of their care in the attention to every detail that goes into crafting the ultimate luxury vacation. From a customised welcome note that is framed and set up in your room to their dedication to making sure there's always enough of everything you need, with just so many more little bursts of joyful surprises throughout your stay! 
You'll feel this love, for yourself, throughout your vacation here with us, in your daily interactions with your hosts and even with the beautiful nature that surrounds the cottage. While Laura and Nathan tend to your other needs, nature will nurture your soul and rejuvenate your spirit through a beautiful garden of bright blooms and the refreshing Dorset breeze. 
When it comes to a luxury vacation, there's no such thing as too much of a good thing. With English Cottage Vacation, you'll always get more out of your holiday. More relaxation, more fun, more luxury — and lots more! No request is too large, and nothing is beyond reach. Call us for additional details about what we offer and book yourself a chance to experience abundance at its finest.