Happy Three Years to Well Cottage – our dream home come true that we are so fortunate to be able to share with all of our wonderful guests who come to stay and experience this special place with us. We decided to create a very special video of all of the Before and Afters of the renovations that we did ourselves, on our English Thatch Cottage.
This was a dream of ours for so long and we really did put in the time and energy to choosing the perfect cottage to create this incredible sanctuary within. We looked at around 50 houses in total between 2018 and 2019, before we found this one… As soon as we walked in, we knew it was exactly the house we wanted. We envisioned how we could shift the energy of the house, to become a home, and so we made those changes with our guests at the forefront of our mind.
We only played with the decor as the layout of the cottage itself was just perfect for what we had planned for this, although a lot of work went into the garden too. All of these changes were made in 2020, during COVID-19 with lockdowns happening, when a lot of businesses were closed, so we came up against quite a few struggles.
We were still working full time on yachts and were visiting the UK for just 8 weeks to dedicate ourselves to these renovations, but this was tough to complete. We had the deadline of a photoshoot planned for the end of the 8 weeks so we had to complete everything in this time frame.
We had to find a seamstress to do the curtains for us because the original company that we had already chosen to complete this work was closed and we needed to get our photos done for our website. We were so fortunate to find Alison, at www.creativecurtains.co.uk, who was able to do all of our curtains and blinds.

Then, there were a lot of things that we bought – and things that we didn't buy – just because of the lockdown. Despite it being tough at the time, we're very happy with the choices we have since made, and we almost forget what the other options would have been if there hadn't been all of these problems stemming from lockdowns.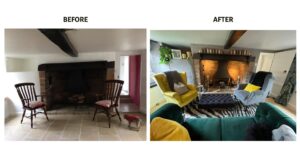 It was a wild adventure trying to furnish the cottage in such a time frame, given the circumstances and it really was interesting to say the least! Read on to see some of the changes we made to Well Cottage, to prepare it to be the luxury vacation that our guests deserve.Let's begin in our snug, which houses one of our most beloved possessions – the bookshelf that Laura's dad made for us. We keep all of our lovely information on excursions and our Discover Britain magazines here. We also keep a few reading books there and in the sideboard, we have lots of family games.
The fireplace hadn't been used in a long, long time so we had to have it rechecked, chimney swept and realigned to make sure it could be used again for our guests.
On the downstairs level, we also added a bar in the summer house in the garden. This is now a gin bar and so great for the guests to use as a bar in the garden during the day time. We also had a chandelier put up in the garden room, which is our main dining room.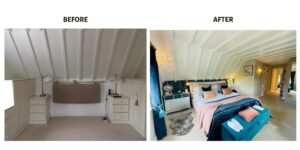 Then upstairs, we made huge decorative changes to the bedrooms. We worked hard to bring a different vibe into each of the rooms but with each, equally having a sense of calm, peace and serenity.
The master bedroom was completely filled with fitted wardrobes, so we took all of these out to make more space and bought some antique cupboards and drawers and had them painted to match the colours of the room.
We also completely levelled up the bathrooms, especially where we added a new vanity unit and a shower in the family bathroom.
As for our own bedroom and space in the house, we moved the boiler outside. It had been in the office, but this allowed us to open up our own room to create one room combined with that previous office space. This gave us more room in our own home space within the cottage, so we're always well rested and ready to look after you!

Now time to see the changes in the garden! This is a pure delight for us. We have made lots of changes to the garden in the last 3 years and with every flower that blooms, we gain more joy and pride in the special space that we have lovingly nurtured here.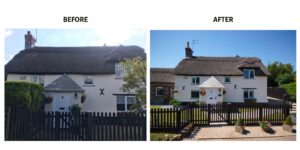 One of the biggest changes that we brought to the cottage was that we had all of the hedges taken down. They had really stopped you from seeing a lot of the front of the house, and it's such a gorgeous British thatch cottage, that it really does deserve to be seen!
So the hedges were all removed to expose that part of the house – and from the gravel, we did our fair part of landscaping it and grassing it.
The well was built up by Laura's dad with the thatch top then added afterwards. Amazingly, the well works now! It is actually the source that keeps the garden watered, which has helped hugely this summer.
The flower beds were already there but Laura's mum really did a lot of the design of the garden. She planted seeds and incorporated fantastically gorgeous hanging window baskets.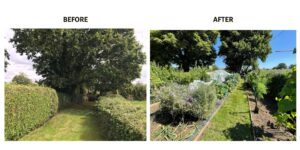 Laura's dad started the vegetable patch, but Laura continued this when Nathan and Laura were able to return home at the end of 2020, after leaving their full time jobs in the yachting industry, where they had been working internationally for the last 10 years. Now what was once an unused piece of grass at the bottom of the garden, has since become a glorious abundance of veggies filled with life and health! There was also a rotting shed at the end of the garden that was removed so that there was space for herbs to grow, which is a love of Laura's.
What makes this space of the garden so fulfilling is that you can see huge development of this veggie and herb patch every single year, and Laura incorporates the fresh veggies and herbs into her meals. Now it couldn't get more fresh, or sustainably sourced, than that!
To add to the magic, a swing was added to the weeping birch tree in the garden. The tree is both tree species together. So, it seemed fitting to put a swing here to entice our guests to enjoy the energy and presence of these two trees coming together.
Would you like to visit the British countryside? Enquire about your English Cottage Vacation today by giving us a call!