Merry Christmas Everyone!
The air is filled with that giddy childish excitement that bubbles up and overflows at the sight of every glimmer of tinsel, bauble and candy cane. These little pieces of sparkle and sugar bring up that rush of emotion, replicated from years past, that we all feel at this time of year, every year, since we were children. We frolic in a dream state, our imagination lit up with possibility, wishes being granted and an anticipation for a whole new start.
It's a time to return home, to be pulled back into the embrace of our families, to give appreciation to those who have supported us and shown us the most love during the year. A time to reflect and be comforted by a roaring fire while sipping a brimming mug of hot chocolate with whipped cream and marshmallows. Of course, accompanied by a warm, home made, mince pie… Whether that's a breakfast treat, or 'elevensies' (that post-breakfast, pre-lunch baked good that us British are so devoted to keeping in our daily schedule at 11am, all year around), there is no judgement. These warm wonders are especially welcomed after a frosty walk through the countryside though.
Wellington boots pulled high, jackets zipped up, scarves, hats and gloves make these walks feel all the more like a real adventure. Stepping out into the frosty air, tiny ice particles shimmer for the crystals that they are, a blanket of this has been pulled across the garden, giving it a mystical glow. The shielded grass welcomes each footstep with a resounding crunch, as the ice thaws out and traces of our boots are left, trailing behind us as we venture deeper into the woods.
The sun's warmth still finds its way onto our cheeks as the windows of the trees' canopies, have opened their blinds to allow more light to stream through, bare but beautiful. Upon arrival to the open vista, rabbits are often seen bouncing out of view while the rest of the scene absorbs all attention. Rolling hills stretch out. Everything is still. There is a soft blue haze being reflected between the glittering ground and the cloudless, yet humble winter sky.
Returning home to the fairy lights hovering daintily from underneath the Thatch overhang, shimmering, and the smell of pinetree filling the air as we open the door, it really is starting to feel like Christmas. We have most definitely already decorated the cottage, elegantly, in all the classic glitz to make this space feel like a cosy winter wonderland. The tree twinkles while presents huddle together, already wrapped and waiting for Christmas day.
This waiting game is actually thoroughly enjoyable though, with the lead up to our favourite day being a true spectacle in Shaftesbury, as this is the greatest place to really make the most of the holiday season. It is the second-highest market town in England and has the biggest Christmas Street Fair in Dorset, in mid December, so this is the epicentre of so many seasonal events.
All of the festivities start at the beginning of December though, so we are well into the fun of it now. From the turning on of the Christmas Lights, to carol singing and brass bands playing, to Father Christmas' Grotto in the town hall – which always includes free presents for every child.
Then there's the farmers' markets for good home-grown, local produce and the Shaftesbury Christmas Art Fair selling unique Christmas gifts and helping to support small business owners. Shaftesbury is surrounded by gorgeous rolling countryside and exceptional walking routes with wonderful places to visit like Tisbury, Sherborne, Sturminster Newton and Larmer Tree Gardens – all within 10 miles, and all with spectacular pre-Christmas events.
Somewhat suddenly, December 25th arrives. We welcome it by pushing open the final – and usually biggest – door of the advent calendar, peeling back the foil to reveal the last daily, countdown chocolate, the great excitement for the day ahead begins.
The lounge door bursts open to reveal the Christmas tree shimmering, aglow with more surprise presents having magically appeared overnight. They seemingly dance as the fireplace reflects shifting shapes onto them, bringing grins from ear to ear and a buzz of renewed energy. The cookies and carrots that were left out for Santa and his reindeer have been eaten and nibbled on, and the tradition continues.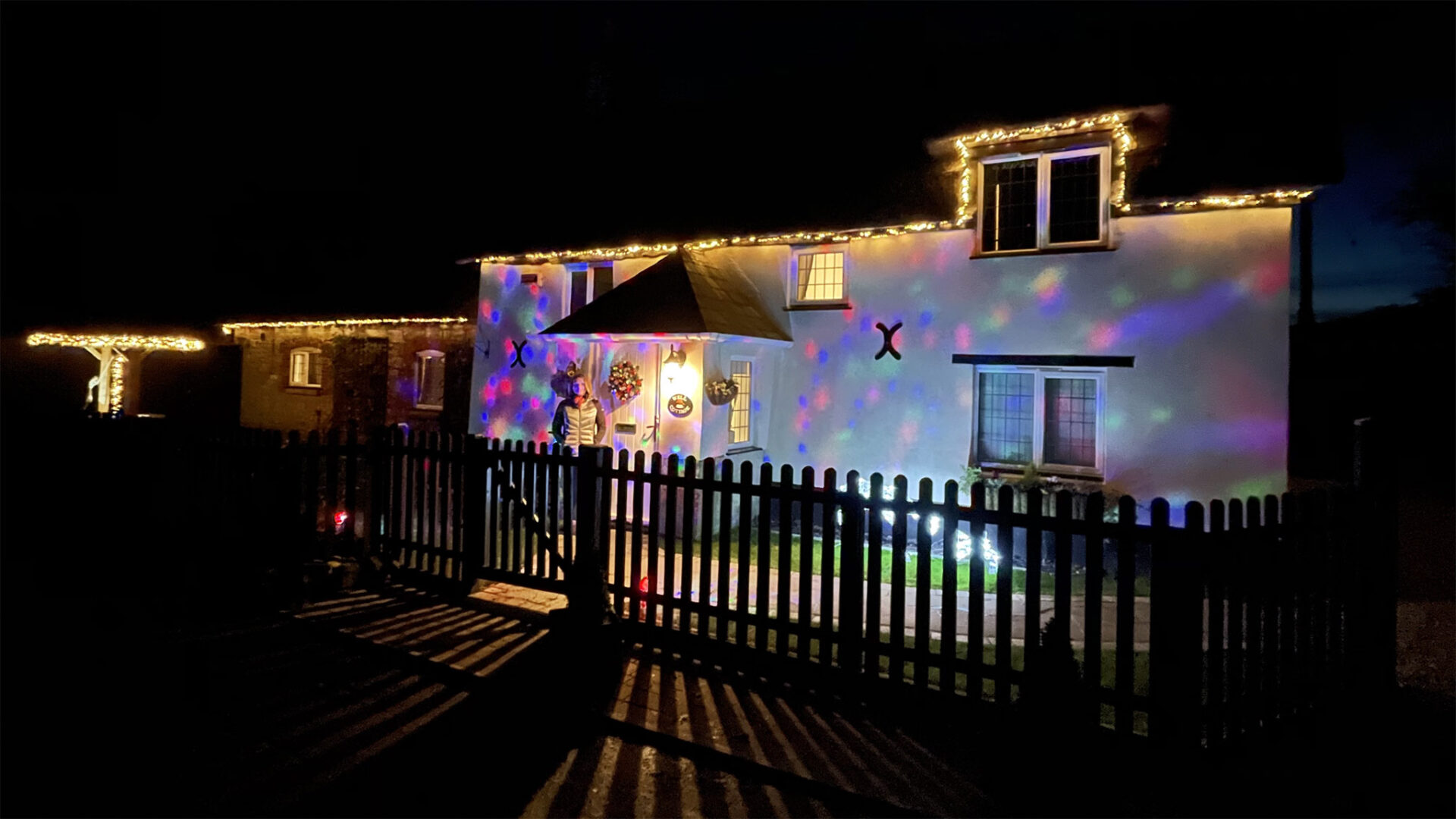 From the gift giving, to the savoury and sweet treats, the Baileys on ice and Quality Street, to the pigs in blankets and Christmas cake that has been steeped in rum for weeks. Cinnamon delights and gingerbread houses, delicately iced, jigsaw puzzles and pulling crackers, every year the same surprise – and the rubbish joke provoked sighs. Board games that hopefully cause more laughs than fights.
A gathering of family with all the bells and whistles on the table. The turkey and gammon carving and all the roast veggie trimmings. Gravy, more gravy and then some more gravy – and yorkshire puddings of course (a hollow pastry to fill as you please) until we're all as stuffed as the turkey had been. Then, the food coma that ensues requires a winter walk as a remedy, if we're lucky, we'll have snow. The usual Christmas films, singing Christmas songs, drinking, laughing and being merry.
This is Christmas in Britain and it's a fantastic tradition. One that we are entirely looking forward to after so many years spent away from home, hosting on yachts in the Caribbean. Although our time spent out at sea was momentous and truly joyous, it feels good to be home, doesn't it? Especially after such a wild year of not knowing what is coming with the coronavirus pandemic looming, it's so good to feel comfort in our traditions arriving on time and as expected – and feeling all the more special this time around.
From our home to yours, lots of love, warm Christmas wishes and we hope to see you in 2021!!
Laura & Nathan x