Here in north Dorset summer has most definitely packed her bags and left for warmer climes, while the usual birds have migrated back home to settle down for the winter. The fresh autumnal air rushes to greet us, leaving pink kisses on our cheeks as a gentle reminder that the year is coming to an end. And what a year it has been – for all of us!
We've learnt that every moment should be appreciated, that the time spent with loved ones is priceless and that nature will always be our space to find solace, gifting us with a certain stability and security in a time of so many unknowns.
We have especially been taking the time to admire the shifting seasons around us, coming as expected, and giving us a sense of relief that some things don't change (even when they do).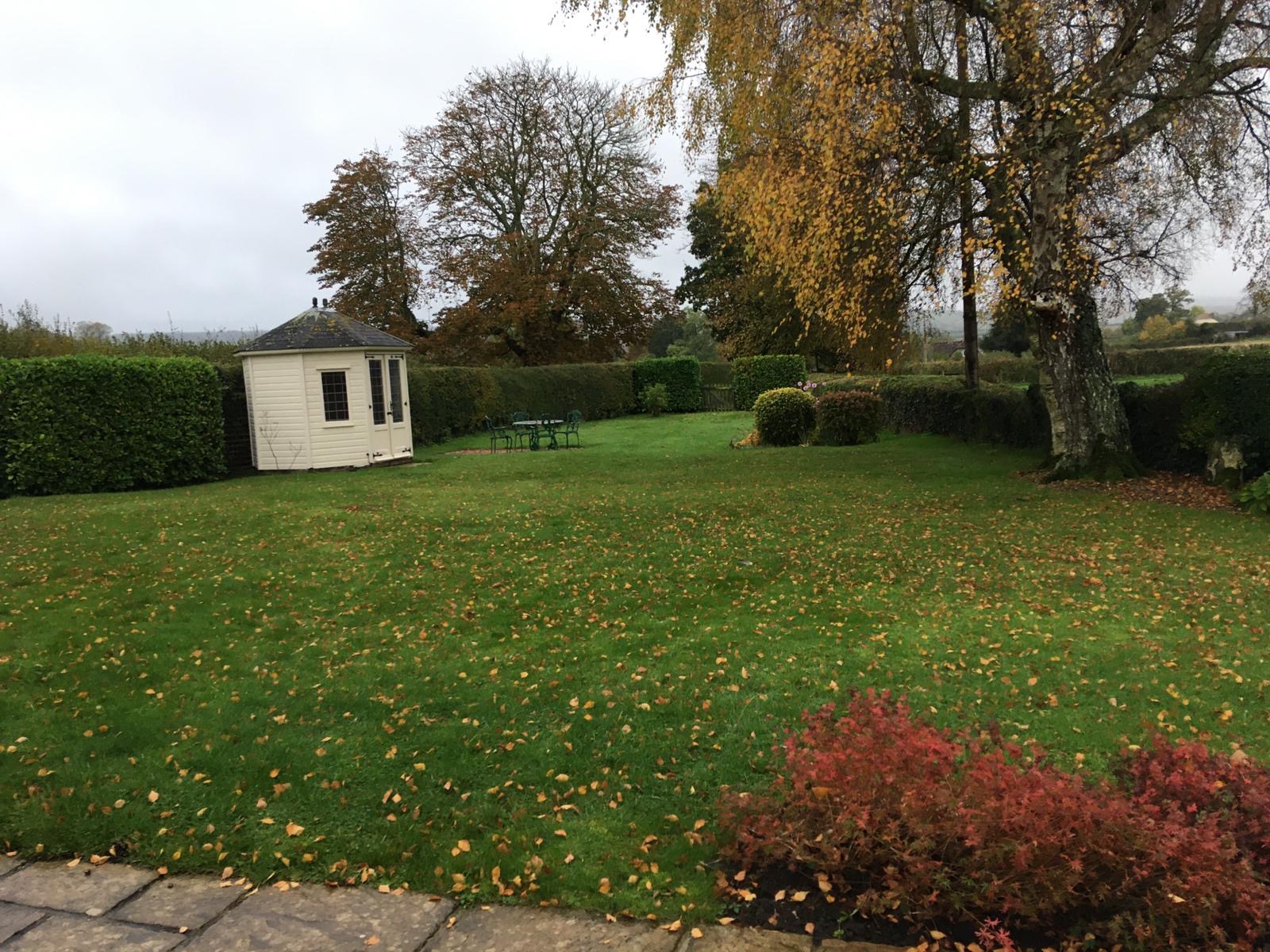 There's nothing better than that first breath of noticeably crisp air,  observing the trees respectfully bow down to the wind as the last warmth of the year crunches under foot in a spectacular show of fiery colour. A jungle of vibrant greens contrast against this, the English countryside is something truly special this time of year.
The beech tree in our cottage garden is purely luminescent. Having spent months soaking up the best of the British summer, she now reflects the sun rays back out as divine golden leaves. Her jewels are worn proudly upon the branches before giving this gift to the earth to make space for renewed emeralds in the springtime.
From the garden, we particularly love birdwatching this time of year, with a warm cup of tea in hand – of course! We welcome the birds and with the temptation of scattered seeds, they flock, perching upon the hedges and amongst the beech tree's gems, curiously eyeing us. Then they swoop down and dance through the grass, to-ing and fro-ing as they collect up all of our offerings. We've been fortunate to gain the attention – and admire the performance – of speckled fieldfares and redwings and even the unmistakable waxwing with his flared quiff.
Look to the heavens and you might spot the occasional gaggle of light-bellied brent geese flying together overhead. You're sure to hear their excited calls though, before you even see them.
Blue skies are frequent this time of year so if it does rain, we make an occasion of it, getting snuggled up in the English Cottage. The day is sleepy from all the change she is making so the night kindly arrives earlier. These evenings are always best spent in the family space – it's the perfect setup for a cosy night in. Imagine, a glass of fine red wine, the roaring fire and soft blankets – a true melange of comfort – all while enjoying good conversation. And, relax.
There is so much to do and explore venturing out from the cottage this time of year, though. The Harvest Festival kicks off the autumnal celebrations. Then, moving further through October, Halloween suddenly graces our door steps with glowing carved pumpkins and tiny trick-or-treaters beaming up through masks… This year will be very different however, with the same mask worn by everyone, and not as much door-to-door fun. But we cannot let this year be a monster that rules our world, so instead we'll socially-distance and enjoy our more widely celebrated, Guy Fawkes, on November 5th.
This is also known as Bonfire Night, where we all gather to watch a pyrotechnic show of colour which lights up the night sky. Bonfires are built up tall so they can be enjoyed for miles. Guy Fawkes marks the anniversary of the discovery of a plot organised by Catholic conspirators to blow up the Houses of Parliament in London in 1605. Fireworks are set off to represent the gunpowder and bonfires are lit to mark the occasion, with straw effigies of one of the conspirators, Fawkes – called "Guys" – being burned. It is a bit of a strange one but our tradition goes even further as this marks a bigger night than Halloween for us here! So the children of course would get back to neighbourly knocking, bringing around their life-size, scare-crow like effigies of Guy Fawkes, pushed in prams, asking for 'a penny for the guy' to spend on sparklers. Oof! Now you never expected a history lesson in this blog, did you!
November also brings Remembrance day on the 11th and the arrival of the poppies, used to show our respect to those who lost their lives in the line of duty during the First World War. The reason poppies are used, is because these are the flowers which are said to have grown on the battlefields after World War One ended. This is described in the famous World War One poem 'In Flanders Fields' and it is still a tradition we hold dear to our hearts, sporting our little poppies upon our chests.
The magic and mystery of Christmas arrives soon after with Christmas markets starting to open in towns and cities. A wonderful display of stalls with exquisite hand-crafted gifts, fudge, candles and other seasonal treats are often accompanied by Christmas trees and Santa's grotto set ups. Some towns will even go as far as decorating their markets with fake snow and other winter-themed surprises.
Although this year has been hard on all of us because of the unexpected arrival of great change and the many unknowns encompassing all of our lives at present, we must remember that from the darkness, there must always come light, just as the sun sets to surely rise again. This has been a year of discovery and growth for all of us. The world has come together at a time when we have needed it most and we have moved into a new age together, but with our traditions arriving every year, on time, and the balance in nature, we can find some peace of mind.
Sending all of our best wishes to you and your loved ones,
Love Nathan and Laura x