Despite our best efforts, relationships often end up taking a backseat to our hectic everyday lives. While trying to balance work and other commitments, the romance between you and your partner might slowly fade out unnoticed. 
If you're looking for a way to rekindle the flame or you just want to make lasting romantic memories with your partner, English Cottage Vacation has just the thing for you. Our luxury getaway offers a combination of all the key components you need to make your vacation romantic. 
Tucked away in the charming countryside of Dorset, our cottage offers privacy, peace and quiet so you and your partner can focus on reconnecting with each other without any distractions. Your hosts, Laura and Nathan, put their hearts and souls into providing the ultimate luxury experience that English Cottage Vacation is renowned for, which you lovebirds are bound to love and enjoy. 
So, what makes English Cottage Vacation the most romantic getaway for you and your significant other? Read on to discover the 3 elements that make it the ultimate romantic destination where love is sure to thrive. 
Distraction-Free Vacation
Between work, chores and every other thing life throws at you, it's no wonder romance can dwindle, especially when you've fallen into a routine at home – and thus, potentially, into a rut… A holiday with us means taking a break from everything that draws your attention away from your partner. 
Thanks to this freedom that comes with being fully catered to and pampered throughout, you have the space and time to appreciate each other's presence in a way you might not back home. Instead of fussing over work targets or laundry that needs to be washed, you'll have time to rediscover all the things you love about your partner and fall in love with them all over again.  
Fun Couple Activities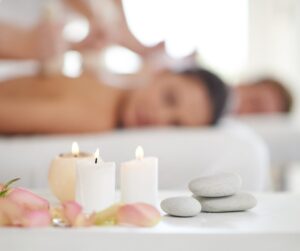 What's more romantic than doing something fun with the love of your life? Our English Cottage Vacation packages include lots of exciting excursions that you can go on with your partner. 
Whether you enjoy an adventure that allows your free spirit to roam or you'd prefer something lowkey to calm your mind, there are lots of options to choose from. You can go on a hot air balloon ride and soar through the skies with the one who makes your heart soar. Or visit the Jurassic Coast on a 50ft sunseeker and explore historical landmarks as you make history with your partner. 
Looking for something a little more intimate? How about a couples massage in the privacy of the master bedroom to help you relax and reconnect with each other? You can even take tours around the city and enjoy an extraordinary experience of the ordinary stuff like shopping for souvenirs or trying out the local cuisine. Not only will you have fun on these excursions, but you'll also live in the moment as it happens and make romantic memories you can treasure forever. 
A Romantic Setting
Take it back to the basics with a romantic dinner for two or a walk through the gardens, hand-in-hand. We'll gladly set a beautiful table for you with our gorgeous floral centrepieces accompanied by a delicious three course meal complete with fine wines or exotic cocktails from Laura's kitchen. 
When the day is done, you can watch the sun disappear behind majestic rolling hills, creating a magical moment that you and your partner can celebrate with a kiss and tuck safely into your hearts and minds for eternity. 
A night out with your partner from time to time may help you keep the romance alive, but you can take things to a higher, more romantic level with English Cottage Vacation. Call us to find out more about our luxury vacation and how we can make your next holiday the most romantic getaway yet!