"For last year's words belong to last year's language. And next year's words await another voice. And to make an end is to make a beginning." – T.S. Eliot
With the New Year comes new hope, new excitement and new possibility for a better year filled with opportunity and optimism. There's a renewed sense of positive attitudes as the year rolls into a new beginning, we see this change already being reflected in the natural world around us too. The freshly trimmed hedges cut by the farmer are ready for new growth and the crops in the field are already starting to shoot through.
Despite restrictions and lockdowns having followed us close behind into the New Year, we are seeing the bright side of the lockdowns here in the UK, making the most of our time in the English country cottage. Adoringly soaking up the cosy ambiance inside with the fireplace roaring and a hot cup of tea, contrasted by the frosty winter environment outside. After having spent so many previous winters hosting aboard yachts in the Caribbean, these winter months are especially magical for us, with the best of both worlds between the warmth within and the cold out in nature.
This time of year Mother Nature especially boasts her wondrous talents and in every moment spent outside, we are, expectantly,  left in awe. It's excellent to watch the shifting seasons, and even if we remained here all year long, it's almost as if we have a different view every day… We wake up to the frost, embracing the earth and covering everything in sight with a heavenly glow. The weather has been excellent this winter with gorgeous skies shifting between bright blues and stunning white. The days are gentle, nature seems more soft, almost fragile, with the tiny icicles outside, a work of intricate art, perfectly symmetrical…
This is what these colder months do, they force us to look closer. Almost like stopping and smelling the roses, but rather stopping to observe nature's beauty. A moment in our garden, that really took our breath away, was noticing this extraordinarily delicate design of this spider's web. Instead of trapping flies, he was catching frost, with the tiny icy particles spreading to accentuate the spectacular craftsmanship of someone's gorgeous winter home. It really shifted our perspective in an instant, to think, that the entire world of some little being, was humbley draped on one side of our garden bench.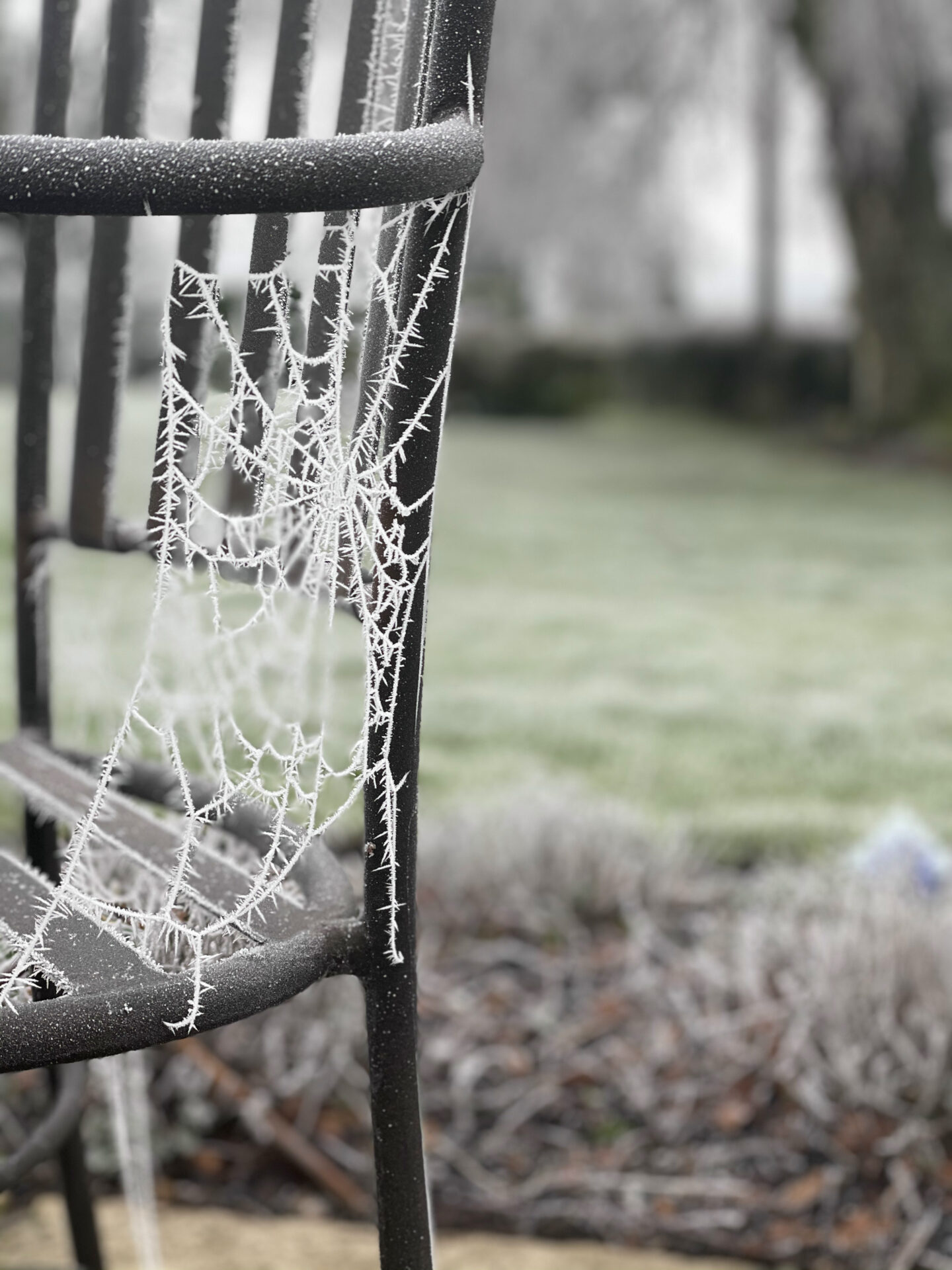 Just incredible what nature is capable of, isn't it? These little instants make you realise nature really deserves so much more gratitude for all of her hard work, for this world she has lovingly created around us.
And so, to show our respect we enjoy multiple, daily, countryside walks, this time of year. This is essential – as with each walk across the different times of day, comes a new scenic view.
In the morning there is a difference in the lighting, a pastel haze softens the distant view of rolling fields and bare trees, now leafless, wearing a new dress of white. The peaceful silence envelopes you. As the day thaws and the temperature rises, the afternoon walk rewards us with revived colour and long distance sight, the melange of greens and blues painted so wonderfully across the horizon. Evergreens pop and so does the cathedral in the distance.
As we really are in the depths of wintertime now, there's a defined purity of the air that can be felt by the freshness in your lungs, all day long.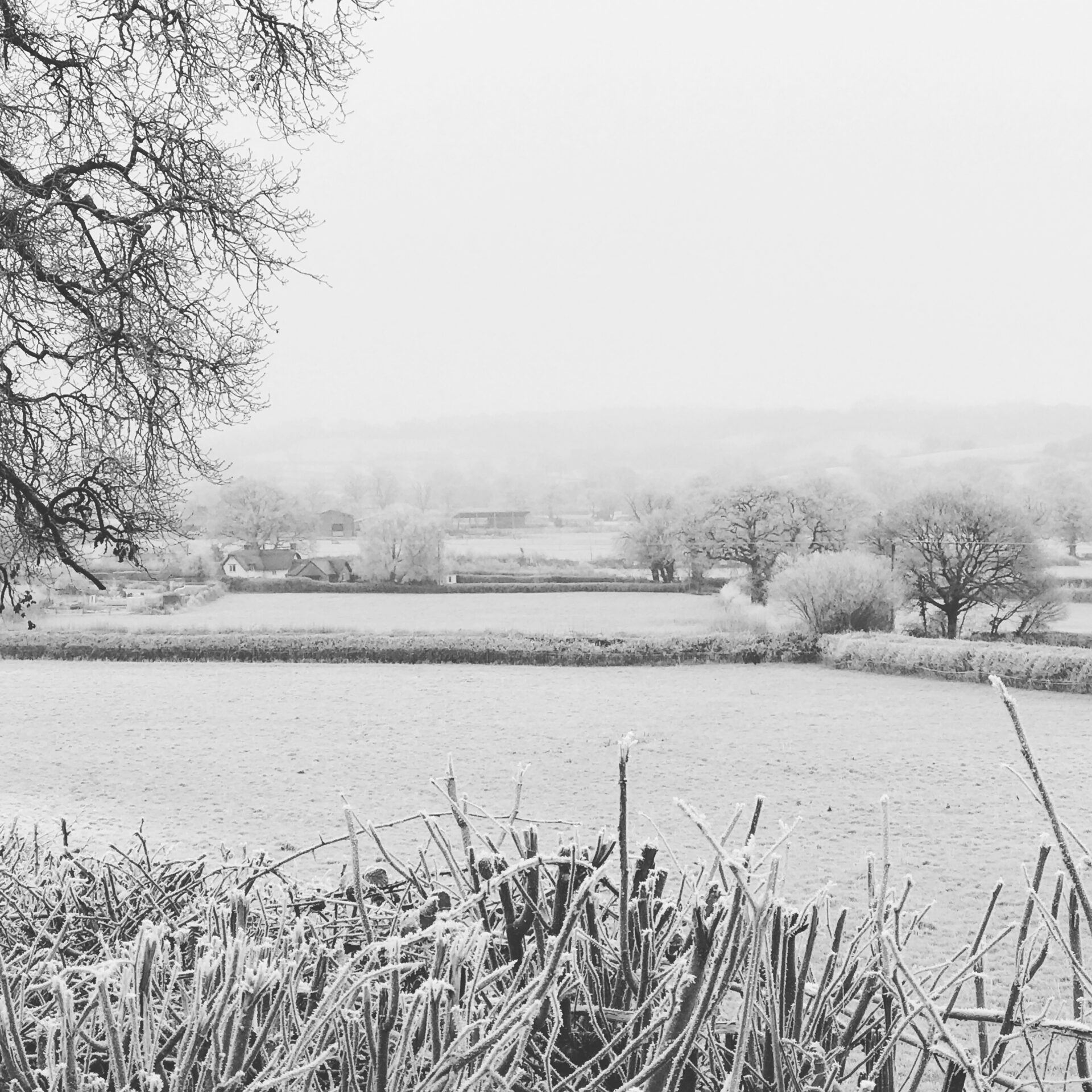 Venturing out from the garden is a true expedition out into the English wilderness. To make the most of the woodland walk, preparation is key. In true British fashion, socks are pulled up all the way over our jeans, wellies are on and of course, our gloves too! The exchange for the gorgeous scenery, icy wonders and mystical fog, is definitely the chill in the air – unless, like us, you adore the rush of adrenaline – this is the thrill of the season, after all. Feeling super cosy, tucked up with scarves pulled up to your nose and woollen hats fiercely protecting and warming your ears, blanketing your head, all the way down to your eyebrows. It's a real sense of comfort. Even the neighbours' little dogs will be seen sporting their tiny jackets!
A flask of hot chocolate in hand, we're ready! Trekking through the fields, following the trodden pathways that are lined by overgrowth – there is a resounding stillness, peace and quiet. The resilience and contrast of the bright red berries that burst with colour make us stop for another moment. We peer out beyond our winter layers, into a field, to eagerly spot the wildlife. We're always so pleasantly surprised as there is such an abundance of life happening – so much more in January than you might expect.
Taking a moment to breathe in deep, to observe nature as it is, to remark that we are a part of this great marvel and to see life happening as it so naturally does, is just exceptional. Along our particular walk, if you're lucky enough, you might even spot some lovingly carved, wooden friends hiding in the treetops – a family of handmade owl sculptures peek back out at you huddled together, from the indent of an old ivy-covered tree.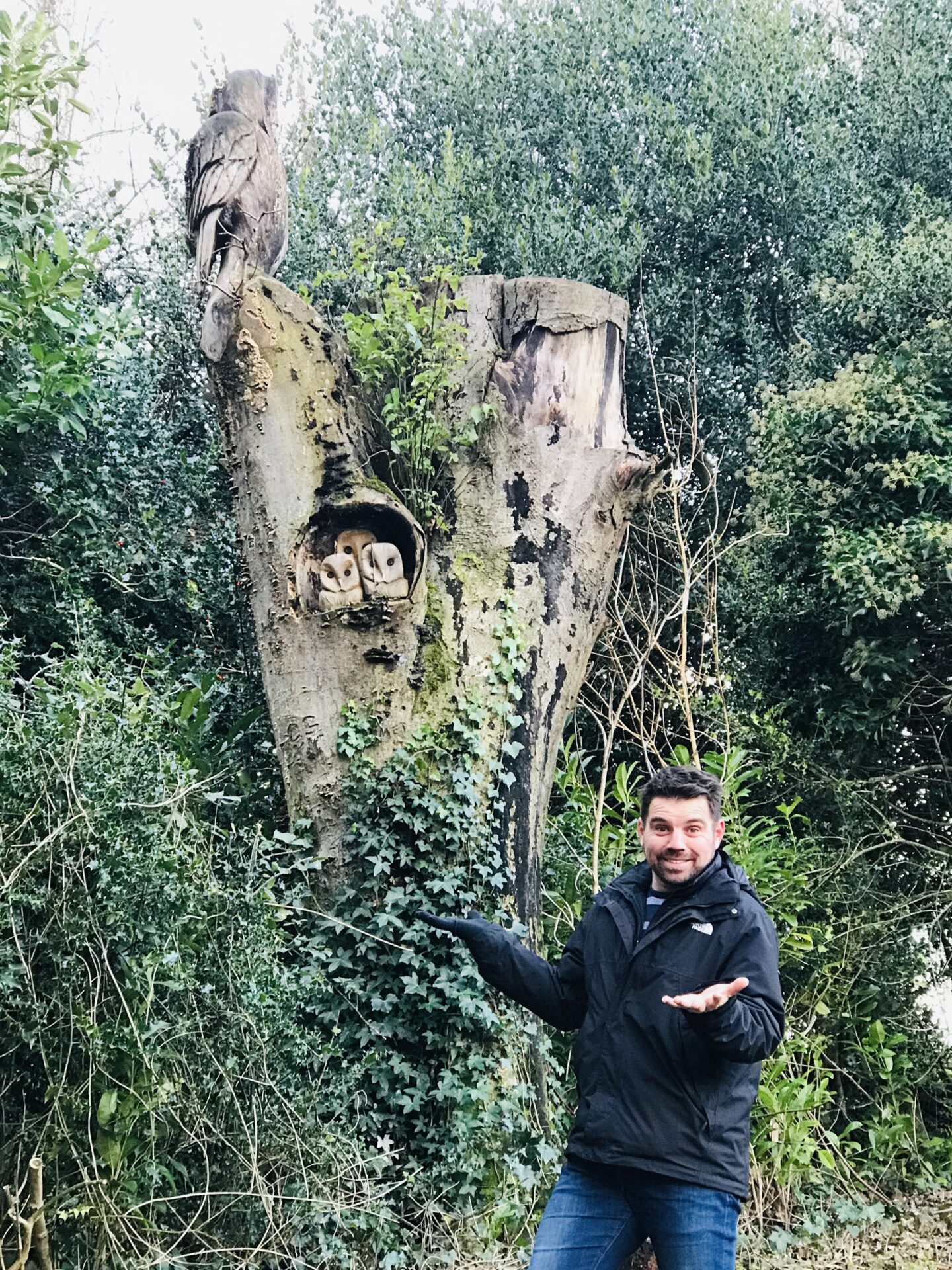 Meanwhile, the real birds are thriving! Our garden is a haven for a variety of incredible species. Many come to frolic in the grass, but we also take so much joy in bird feeders – who knew a spoon of peanut butter and some seeds could bring so much life to the garden! We've been so fortunate to spot long tailed tits, woodpeckers and even a bullfinch in addition to the more common birds such as blue tits and the winter robin. The pheasants also gift us with their presence, you can see them speckled all across the fields, whooping and calling, in the mornings!
Returning home from our walk or even just from popping out into the garden is the greatest feeling. The rush of a welcoming warmth rushes to greet you, removing the layers and getting the kettle on – boots off, feet up, hot cup of tea in hand and now it's your time to thaw out. Our open space fireplace returns us to our roots, this ancient feeling and sensation of comfort from fire. The golden flames sway to and fro, above an amber dance floor. Re-energised life coming from the logs – natures' trees' final gift to us. What a way to end the day – this is bliss.
We just cannot wait to share these moments with you, this upcoming year at Well Cottage. As this is the perfect place for entertaining and we so love to make our guests happy and indulge them, we are counting down the days for you all to join us, to enjoy nature's beauty, as much as we do.
Lots of love and warm wishes,
Laura & Nathan