"The ache for home lives in all of us, the safe place where we can go as we are and not be questioned" – Maya Angelou
In February, all around the world, love is in the air. Here in England, this month especially gifts us with a heightened sensation of admiration – not just for those we love with Valentine's Day marking the middle of the month, but for nature, too. The days are lengthening and bringing more light. Each week that passes brings a visible change, not just in the sun's working hours, but also in all of the life around us that is blooming.
The green of the grass is stark and vibrant – you can almost hear it calling for a picnic blanket to be put down, with a plate of chocolate covered strawberries, a bottle of good champagne and tea light candles to pair with a breathtaking sunset sky…
Alas, unless you're bundled up in winter wear, it's still a little bit too cold to enjoy a sit down meal outside, unless it's a moment shared with a hot flask of tea or hot chocolate, hats, scarves and gloves!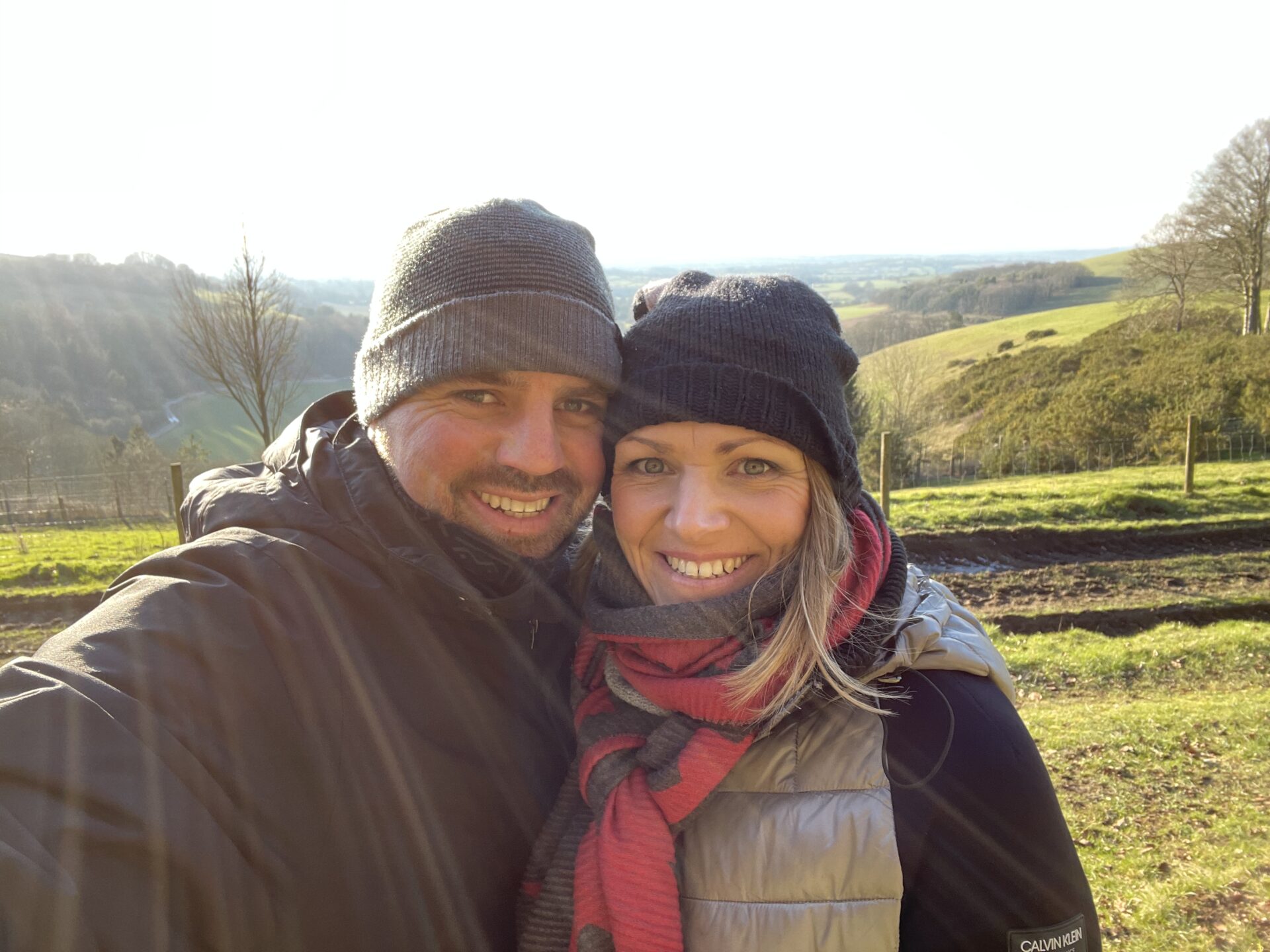 Some days are of course, colder than others and this year we were very fortunate to have snow! Although only a dusting of it, it always creates an excited atmosphere and a welcomed ambiance. Cyan skies contrast the blanched white that blankets the area in silence, with the outlines of the trees and hedges radiating a highlighted glow. The thatch on our cottage is especially beautiful, looking much like the perfect scene for a luxury, wintertime jigsaw puzzle…
Our snow days were welcomed and put to sleep with spectacular performances of colour. Against the bright blue heavens, wisps of navy clouds were painted with smudges of light coral pink. Simply glorious.
When the snow thawed, there was a sudden burst of life with Shaftesbury seeing the bloom of their signature wild flowers – snowdrops. We have been able to find two different species of snowdrop in and around our British cottage but there are hundreds more due to bloom in the coming weeks.
When the little white bell-like flowers awaken out of their slumber, they really put on a show and make an announcement of their arrival by taking up space. They can be easily spotted along the edges of the forest walk pathways, enveloping entire fields and creating a beautiful fairy-tale dancefloor throughout our own garden. It's almost as though nature has thrown her own confetti down celebrating the marriage of the seasons as we move from winter into spring.
There's a warmth that is starting to appear, not just in the temperature but in the welcoming sense of new beginnings. The whole world around us is shifting to a royal green with little buds bursting on the branches of the trees so suddenly, that every day it feels like there is an entirely new view to soak up.
Primroses are appearing early, dotted around here and there, and the daffodils are on the cusp of exploding bright yellow everywhere. We can't wait to see the splash of colour in Well Cottage Garden, although for the time being, we are being kept occupied with sightings of friendly, woodland visitors!
We were thrilled to spot a colourful, male Ring-Necked Pheasant in the garden from the comfort of our garden room. It is always astounding to me how beautiful these great birds are. With their impossibly long tails, their speckled backs washed with gold and amber, a contrasting white stripe that they wear like a pearl necklace and the dark green and bright red of their heads – nature's creations always leave us in awe.
In these chilly months we are enjoying our typically British home-cooked comforts. Relishing in lots of cups of hot tea, freshly baked cornish pasties, soups, stew and dumplings. Then of course, as it is tradition in the UK, every Sunday we devour our roast dinner. Complete with Yorkshire puddings, carrots, bright spring beans, potatoes, fresh cuts of tender meat and lashings of gravy, followed by bread pudding for dessert!
This homely food is the only way to eat during the colder months and it all just pairs so well with the cosy environment inside your to-be private English cottage, countryside getaway. The contrast of the weather outside makes us all the more grateful for the roaring fire and the warmth from the heating on full blast, keeping us snuggly warm within!
On Valentine's Day this year, Laura poured her love into cooking up a storm in the kitchen, creating this romantic meal, lovingly crafted, while Nathan decorated the dining room table with equal amounts of love. This very special table setting, complete with red roses, scattered petals, candlesticks, love hearts, fairy lights and pretty ornaments can be arranged for any occasion. Whether it's to celebrate an anniversary, honeymoon or birthday… Or even better, for no occasion whatsoever on your vacation, to really surprise your partner, all without having to leave the comfort of your exclusive English Cottage Vacation.
We use only the freshest ingredients for our gourmet, culinary masterpieces, ensuring we give our full attention to each plate – this is when being a perfectionist comes in handy! And of course, all of our cuisine follows specific dietary requirements upon request.
Venturing out beyond the Cottage and our garden, our woodland walks bring a sense of peace, calm and serenity, with so much of this calming colour now enveloping the trees and fields, surrounding us. Green is an especially comforting colour, as it symbolises nature, bringing with it, harmonious feelings. Just a short nature walk can really ease any anxiety, soothing and shifting any negative feelings to be instead, calm and refreshed.
You know, there is such a thing as 'forest bathing' which reinforces this idea of nature returning you back to being the best version of yourself. The concept rose to popularity in Japan in the 1980s as a physiological and psychological exercise called shinrin-yoku, translating directly as 'taking in the forest atmosphere'. It continues to be a very popular practice for city-dwellers to escape the busy-body, tech-burnouts as a kind of eco-antidote, inspiring overworked people to reconnect with nature, getting back in tune with their true selves and theres truly no better place to experience this than the Dorset countryside surrounding Well Cottage and beyond.
It's no wonder nature is a form of therapy. With the air being so fresh, clean and quiet, our walks are contemplative while we absorb the scenic wonders, meditative. Every gate we pass by leads to another world, picturesque rolling hills, trees starting to show their green silk gowns, and hedges giving you a perspective of how vast the distant land reaches. We can't help but admire our surroundings as a paradise that has been gifted to us. It's been just another wonderful day at Well Cottage.